Cash for the Tories buys you access. And access means cash from the public purse. That's the abysmal two-step that channels public cash to Party donors.
All of this happened secretly through the VIP backchannels for PPE and Test and Trace contracts unearthed by Good Law Project. But now the institutionalisation of favours for those with special access is out in the open.
Mandating Covid testing services for travellers entering and leaving the UK has meant a bonanza for those firms lucky enough to get approved. An investigation by Good Law Project into the process for obtaining that lucrative approval has revealed the apparent existence of another VIP lane.
Applicants for approval are asked to say whether they have a 'sponsor' who is a 'Member of Parliament or Minister' and to name them.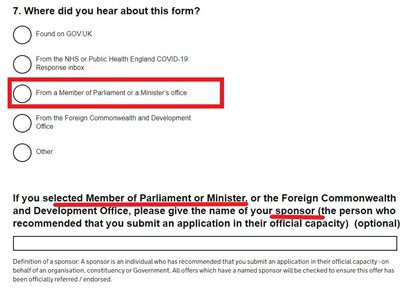 Screenshot of application for approval showing applicants are asked whether they have a 'sponsor' who is a 'Member of Parliament or
Minister' and to name them.
The fact of a Minister 'sponsoring' your application is – or should be – irrelevant to your prospects of gaining authorisation. It is hard to see any reason – beyond a desire to red carpet those lucky enough to be on good terms with Government Ministers.
We also know that many of the firms operating in the lucrative PCR testing market have ties to the Conservative Party.
Rapid Clinics
Rapid Clinics was incorporated in December 2020 by Dr Ashraf Chohan and has a 'poor' rating on trust pilot with users labelling their service as "terrible" and "unprofessional".
On the other hand, Chohan does have strong ties to the Conservative Party. He is chairman of the 'Conservative Friends of the NHS', a Party donor and a member of the Party's 'treasury team'. He has also been snapped at events with Prime Minister Boris Johnson, Chancellor Rishi Sunak and Foreign Secretary Dominic Raab, and a host of other senior Conservative Party figures.
Quick Clinics
Dr Chohan's son Jamal Chohan also operates a Government approved Covid testing firm – Quick Clinics. Like his father's business it also has a 'poor' rating amongst consumers, who have labelled the firm "dishonest and avaricious".
Qured
Qured, another Government approved testing company, was last week labelled a "joke" and a "fraud" by UK travellers let down by the firm.
Qured's company name is Health Technologies Ltd and the firm appointed Stephen John Oakly Catlin as a director in April 2020. Catlin is a major Conservative Party donor and has handed the party £450,000 – including £50,000 as recently as February 2021.
Mr Catlin is also a member of the Conservative Party 'Leader's group'' – an elite Conservative dining club whose members get direct access to Boris Johnson.
We don't make any allegations about how these firms won Government approval that many customers don't think they deserve. But we do say as a general rule this: cronyism – welfare for the wealthy – gives short shrift to the public interest.
Reproduced from an email from Jo Maugham – Good Law Project